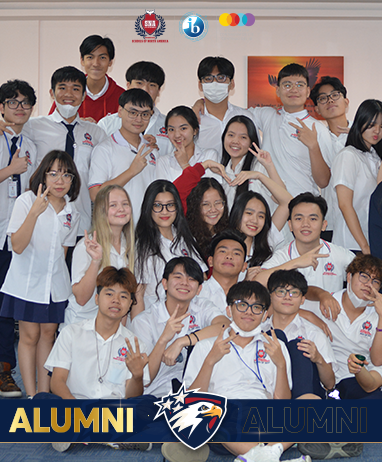 Tran Vo Thao Vy Jennifer
I studied in SNA for eight years, but those first days here were still fresh in my mind like it was yesterday…
In 2013 for 4th grade, I transferred from a public school to SNA with little to no English. Since SNA is an international school, students would take subjects in English as one of the main languages. Being surrounded by students who could speak English fluently made me feel insecure and inadequate about my minimal English skills. Fortunately, I had the chance to become friends with both upper- and lower-class students besides my classmates. Everyone was so friendly; they never made fun of me for not knowing English but supported and helped me a lot in adapting and catching up with the lectures. The teachers are also very patient with me for not being good at English and always adjust the teaching pace to ensure everyone can follow. They also arranged a one-on-one class where I could get basic
English tutoring. After the first semester, I was able to keep up with my friends, thanks to all the support. Even though it was still somewhat challenging, I could still improved my English significantly as I was able to contribute in class activites. I am genuinely thankful for all of the love and support from my classmates and teachers at SNA, and I thank you for making me who I am today.
Here at SNA, teachers not only support students' academic success but also encourage them to get out of their comfort zones for an all-rounded development of other skills. I've felt more open-minded about other people's opinions of me and much more confident in my abilities thanks to the clubs and extracurricular activities I've joined. Along with opportunities to develop essential skills like public speaking, debate, collaboration, and leadership, I was given chances to broaden my network of contacts and contribute to community-beneficial projects. I used to be a passive and timid person. SNA, the school that has been my constant companion throughout the years, changed me into someone proactive, self-assured, and prepared to take on new challenges. Every time I reflect on my time at SNA, I am incredibly proud of and grateful for it.
I want to express my gratitude to all of the teachers and staff at SNA once more for all your contribution to a brighter future for students. Sincere thanks to my dear classmates from the Class of 2022 who have been by my side throughout my wonderful years at SNA. I treasure every second we spend together at SNA. I'm wishing you all the best!
I am and always will be honoured to be a member of the SNA family.
https://sna.edu.vn/wp-content/uploads/2023/02/6.png