During the ages of 6 to 12, children enter a stage of memory and thinking development in preparation for school. During this period, they also form conscious habits and behaviors within the rules of society, which is considered a critical stage in shaping their character. Understanding this, SNA provides the International Baccalaureate PYP (Primary Years Programme) to develop learners holistically through fostering a love of learning, confident understanding, and caring for the world around them without relying on textbooks. 
1. Introduction to the PYP programme 
The International Baccalaureate Organization (IBO), established in Switzerland in 1968, is a leading global organization for international education, developing young people who are curious, knowledgeable, and caring about the world around them. The International Baccalaureate program provides a comprehensive educational program from Primary Years to Secondary School for students from 3 to 19 years old, with the IB Primary Years Programme (IBPYP) designed for children from ages 3 to 12 – marking the beginning of a lifelong journey of developing cultural awareness and active participation in their learning.
The PYP program creates opportunities and ignites the curiosity of students to explore the world around them, which plays a significant role in their learning. Students gradually learn how to connect what they learn with relevant situations. As a result, they become more interested in and responsible for their learning. Through this process, we aim to instill in students a sense of responsibility and the characteristics of a global citizen.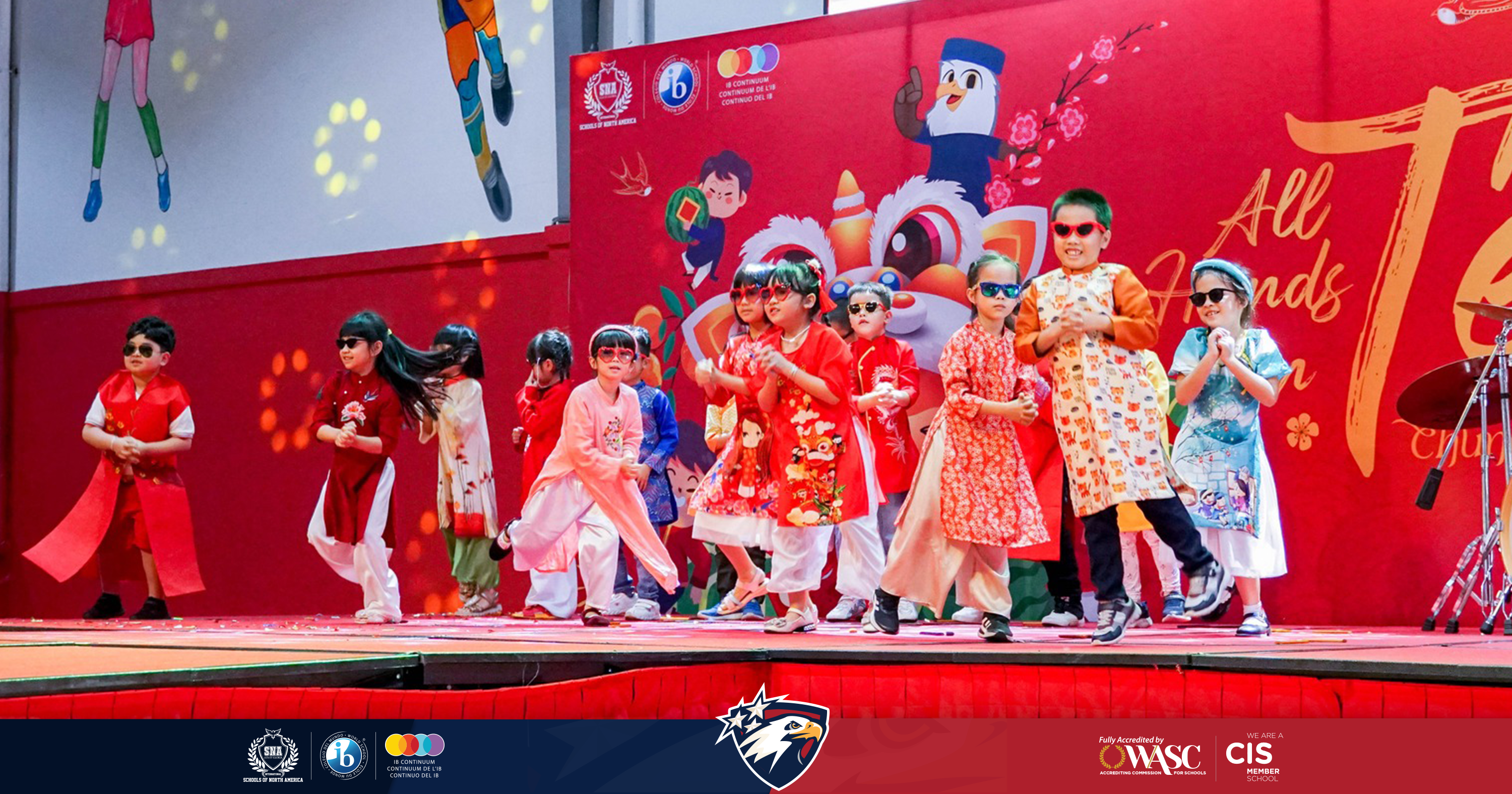 At SNA, students will learn 9 subject groups within the PYP curriculum: Language (English, Vietnamese), Social Studies (History, Geography), Mathematics, Arts (Painting, Music), Science, Personal, Social, and Physical Education (PSPE), and focus on developing students' social, physical, emotional, and cultural growth alongside their academic development. 
2. Knowledge beyond textbooks
The IB PYP program is reinforced by six interdisciplinary transdisciplinary themes that integrate local and global issues into the curriculum. The six themes include:
Who we are: A request for self-identity; beliefs and values; personal, physical, mental, social and spiritual health; human relationships including families, friends, communities, and cultures; rights and responsibilities; the meaning of human beings.

 

Where we are in place and time: A request for orientation in space and time; personal histories; homes and journeys; the discoveries, explorations and migrations of humankind; the relationships between and the interconnectedness of individuals and civilizations, from local and global perspectives.

 

How we express ourselves: A request for ways in which we discover and express ideas, feelings, nature, culture, beliefs and values; the ways in which we reflect, extend and enjoy our creativity; our appreciation of aesthetics.

 

How the world works: A request for the natural world and its laws; the interaction between the natural world (physical and biological) and human societies; how humans use their understanding of scientific principles; the impact of scientific and technological advances on society and the environment.

 

How we organize ourselves: A request for the interconnectedness of human-made systems and communities; the structure and function of organizations; societal decision-making; economic activities and their impact on humankind and the environment.

 

Sharing the planet: A request for rights and responsibilities in the struggle to share finite resources with other people and with other living things; communities and the relationships within and between them; access to equal opportunities; peace and conflict resolution.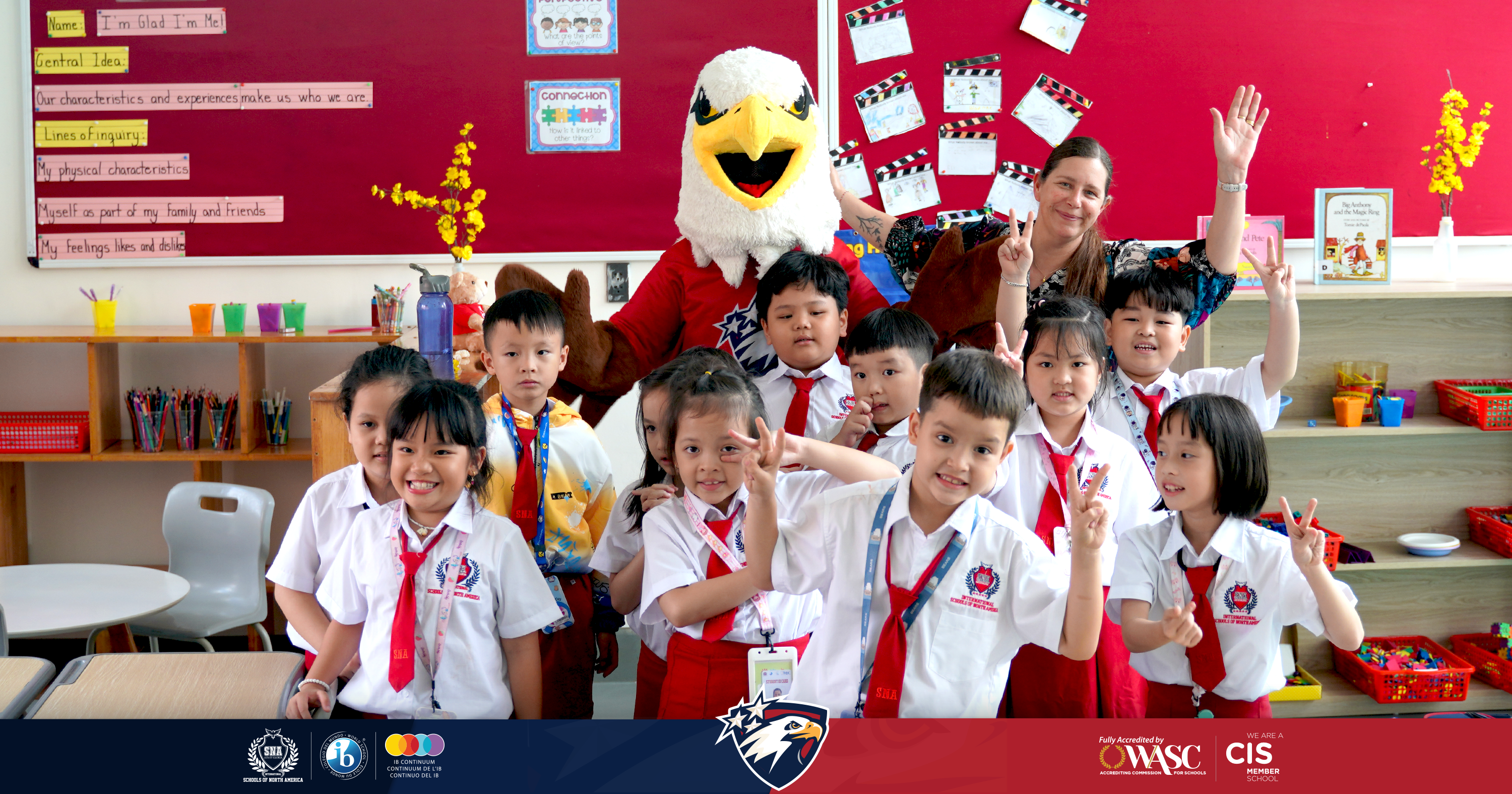 Students learn all six themes throughout the school year. From Grade 1 to Grade 5, each theme lasts for 6 weeks. The IB PYP program proposes not to use any specific textbooks, but instead focuses on various sources of materials from which students develop knowledge, understanding, and learn through inquiry and authentic sources of information.  
These materials include technology skills, books, and real-life experiences that meet the needs and learning styles of students. Students who learn through this method will begin to experience their own responsibilities and become actively engaged in their learning. 
Throughout the learning process, the PYP program promotes multilingualism and a solid understanding of the culture of the host country. This is why at SNA, the Vietnamese curriculum is the foundation of our program. The PYP program emphasizes monitoring and documenting students' learning progress, without requiring exams, instead showcasing the PYP Exhibition of the knowledge and skills that students have learned. 
Ms. Nguyen Van Anh, parent of student Do Anh Thu (Tracy) in Grade 5A1 studying at SNA, shared her emotional perception when attending her child's exhibition: "We were truly surprised and touched when we saw our child confident and much more mature after the entire process of work, research, preparation, planning, … very diligent and serious under the guidance and support of the teachers for 9 weeks to be able to excellently complete the project that our group is responsible for." 
With the goal of the International Baccalaureate PYP program, the spirit of the teachers, staff, and school community, SNA helps elementary students to be inspired, creative, and able to develop themselves independently so that they can face future challenges. 
Source: International education – International Baccalaureate®, Programme, https://www.ibo.org/programmes/ 
For detailed information of the IB programmes at SNA, please contact the hotline: 0964 466 014 or via this link https://sna.edu.vn/register-for-consultations/