The annual ceremony to honor Vietnamese Teachers on November 20th is a happy day for millions of teachers in Vietnam and is also a day for us to express our deep gratitude to them.
Therefore, on this special day, Mr. Mike Miller – Deputy Head of School sent an emotional, yet inspirational letter to all teachers and staff of SNA.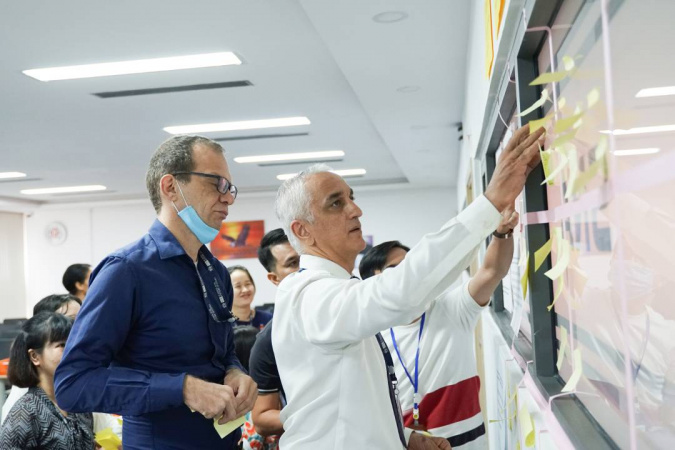 "Dear SNA teachers and staff,
"A good teacher is like a candle-it consumes itself to light the way for others". This is a well-known phrase in the education world and a phrase which resonates with me as I believe it is so meaningful and true to all our wonderful teachers. Teaching is a vocation; it is a calling to many who want to make a difference to the future of our world. Teachers do not enter the world of education blindly, they know that to be successful, they need to be many things, such as patient, resilient, compassionate, caring, enthusiastic and knowledgeable.

But, above all, they want to make a difference.
This year has been exceptionally challenging for SNA teachers with covid-19 restrictions being placed upon the learning process. However, our teachers and classroom support staff have risen to the challenge and continued to teach, support and guide students as seamlessly as possible. Many teachers and students were not familiar with distance learning methodology and were naturally apprehensive and anxious. But, we all learned together and came out of this stronger as a community of learners.
As if coping with covid-19 was not a big enough challenge, our whole community was involved in guiding SNA towards IBDP authorization and future WASC accreditation! Our teaching and support staff played a crucial role in ensuring that we gained authorization to deliver the IBDP this academic year, along with continuing the authorization process for the MYP and PYP. While all this preparation work was going on with IB, staff were also working on the accreditation process with WASC (Western Association with Schools and Colleges). We had a recent virtual visit with a WASC visiting committee which culminated with very favourable positive feedback session. The final decision will be received in December, and we are hopeful that this very positive feedback is a sign that full accreditation will be granted.
Therefore, this year on Teachers' Day, I want to give a heart-warming thank you to all our SNA teachers and classroom support staff in wishing you a wonderful Teachers' Day on November 20th. You have all worked tirelessly on all our projects and many other areas of school life; and all of these revolve around making a difference. We can all remember our favourite teacher from when we were younger, no matter how old we are, and I can safely say that our SNA students will remember many of the wonderful moments that you continue creating for them, all in the name of making a difference……
Thank you all and Happy Teachers Day!

Mike Miller
(Source: Human Website)