Besides the A Level (UK) and Advanced Placement (U.S) program, the International Baccalaureate (IB) diploma is also another prestigious program that is gradually becoming important. 
The International Baccalaureate Organization (IBO) 
The International Baccalaureate (IB), founded in 1968 in Switzerland, is widely recognized around the world as a comprehensive educational program that equips students with a strong academic foundation and the abilities to adapt to the top global universities. The IB offers a curriculum framework from Primary to High School, for students aged 3-19 years old. The structure of the program includes: 
IB Primary Years Programme (IB PYP) for students from kindergarten to 10 years old

IB Middle Years Programme (IB MYP) for students from 11 to 15 year olds

IB Diploma Programme (IB DP) for students from 16 to 18 years old

The IB programmes help students take charge of their learning while developing the skills they need in the future to make a difference and thrive in a rapidly changing world. It is designed to develop well-rounded individuals who can respond to modern challenges with optimism and an open mind. 
For more than 50 years, the 4 programmes of IB have provided a solid, consistent, and flexible framework to help tailor students' educational pathways to their culture and background. In addition, the IB programmes enable teachers to develop resilient, self-motivated young generation who have the knowledge, skills, and sense of purpose needed to thrive throughout their lives and contribute to society. 
The IB Curriculum Framework 
The IB programmes consist of 6 subject groups and 3 cores. Students need to choose 1 subject in each group, in which choose up to 4 subjects (at least 3 subjects must be selected) at the advanced level, other subjects can be studied at the basic level. Subject groups include: 
Math

Language and Literature

Language Acquisition

Science

Individuals and Societies

Arts

In addition, students need to complete 3 core subjects: 
Theory of Knowledge (TOK):
Students develop skills to think critically about the nature of knowledge, as well as issues that are inherently considered facts. 
Students write a 4,000 word-essay that revolves around a topic of the curriculum. 
CAS (Creativity, Activity, Service):
The core includes projects and extracurricular activities to maximize and enhance one's soft skills.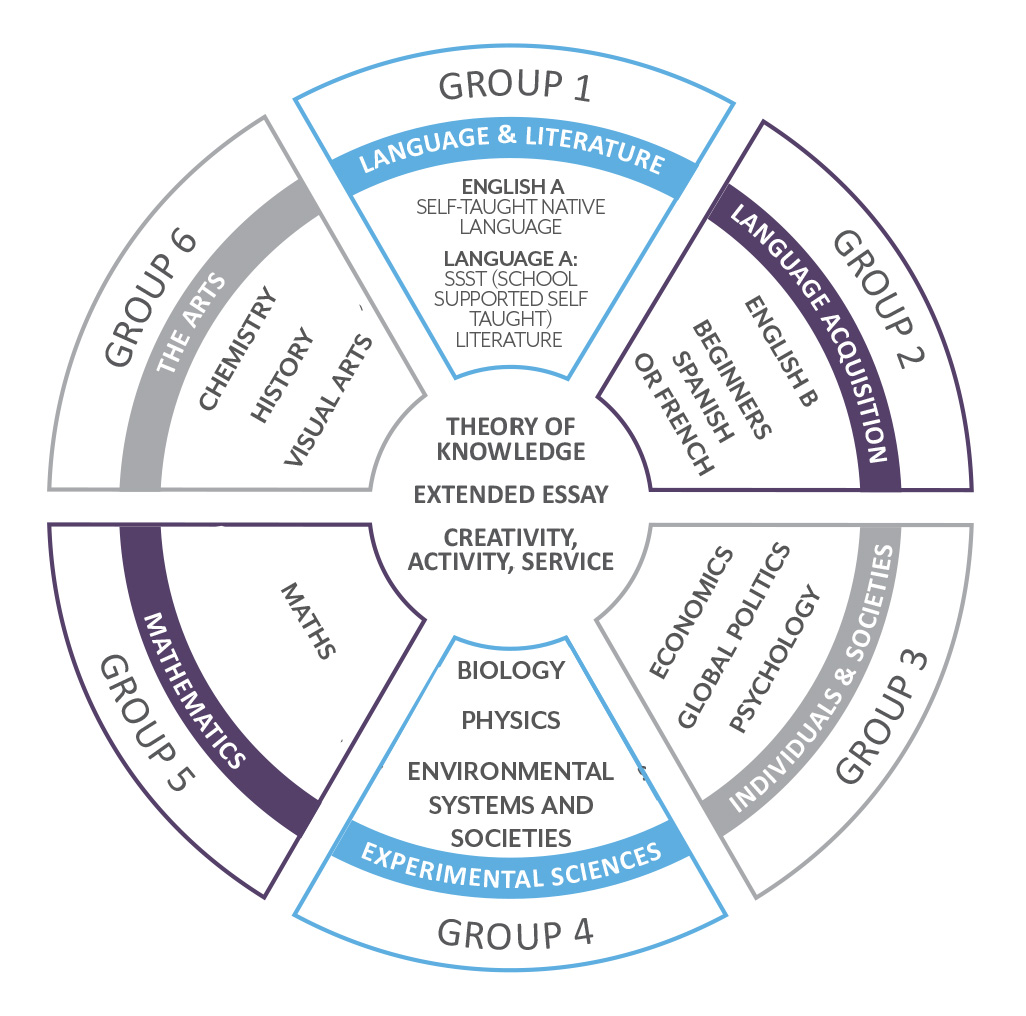 The International School of North America (SNA) is proud to be 1 of the only 6th IB Continuum Schools in Vietnam. SNA was established in 2005, is a member of Nguyen Hoang Education Group. SNA offers a high-quality international program from Grade 1 to Grade 12, and always puts students at the center of its teaching activities. 
For detailed information of the IB programmes at SNA, please contact the hotline: 0964 466 014 or via this link https://sna.edu.vn/register-for-consultations/